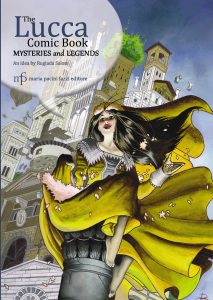 An idea by Rugiada Salom
Comic pags illustrated by Riccardo 'Ruggine' Pieruccini and Pierfrancesco Buonomo
Written by Antonio De Rosa 
---
pp. 64, f.to 17×24, 2018
ISBN 978-88-6550-629-5
€ 6
For the first time the stories and legends of the city of Lucca become a comic strip:
Come and visit the places where the story was set! 
A guide to Lucca's mysterious sites
The love that challenges the oblivion of Ilaria del Carretto's time, The tragic story of the murderess nun: Lucrezia Buonvisi, The demonic pact of Lucida Mansi: a soul in exchange for an immutable beauty,
a beneficial gem protects Lucca: the stone of San Michele,
the saint of flowers and charity: Santa Zita
and finally the story of the Holy Face: the true face of Christ arrived in Lucca across the sea more than 1400 years ago.
Riccardo Pieruccini Comic book illustrator, cartoonist and character designer, Riccardo was born in 1979. He worked in various comic book projects, for many different publishing houses and moreover he has been involved in the production of movies and advertisement campaigns. He has more than ten years of experience in teaching graphic arts and illustration. Since 2005 he has been working with Lucca Comics & Games.
Pierfrancesco Buonomo He was born in Rome in 1993, but he lives in Lucca. He is graduating in "Fumetto e illustrazione" ( Comic books and illustration), at the Accademia Europea dei Media, in Milan. He created the illustrations for a calendar, published by "Why Lucca" and distributed by the newspaper "La Nazione". One of his stories can be found in the volume Facchetti, il rumore non fa goal , published at national level by Becco Giallo Editore
Antonio De Rosa  He was born in 1994, he lives in Lucca and he is studying Script Writing at the Scuola Internazionale di Comics, in Florence. This book is his first published work.
Rugiada Salom She lives and works in Lucca. She rents holiday homes of her property to tourists. She has worked as a flower arranger. She is married to Walter Ferretti, and she is the mother of Edoardo, her fifteen years old son. This book is her second published work.