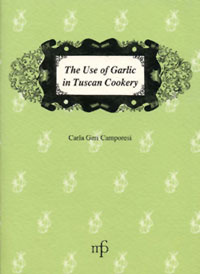 Carla Geri Camporesi
---
pp. 64, f.to 12×16,5, 2008
ISBN 978-88-7246-807-4
Esaurito
The first real scientific proof of garlic's properties goes back to 1858, when the French chemist and biologist, Louis Pasteur discovered its effectiveness in blocking the reproduction of many harmful bacteria.
During the latter decades of the nineteenth century, garlic reconquered the attention of a specialized public owing to its countless curative properties. Consequently this plant has become the subject of much scientific research, chiefly aimed at the prevention of cardiovascular disease and tumours.
The National Bookstore for Medicine in Bethesda, Maryland (USA) has more than one hundred scientific reports on garlic, published from the eighties up to the present day.
Whilst it is interesting to know that the curative effects of garlic were noticed in earlier times, it is important to recognise the results of more recent studies which advise the use of garlic for the protection of heart and arteries.
So as to make the use of this panacea more agreable, I have collected a certain number of recipes containing garlic. If you also find some cooked garlic on your plate, be sure to eat it.
Avalable at Amazon.com